Korsegården used to be situated atwhat is currently a highway crossing, "the Korsegård-crossing" or Korsegårdskrysset, by the E6 in Ås, Akershus.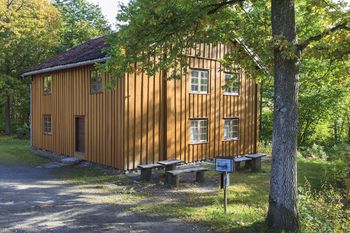 After the railroad arrived in the area in 1879, the building has been in use as a brewery, woodshop and homeless shelter. When the new highway was built, the house was moved to Follo Museum in Drøbak.
For hundreds of years this has been an important crossroads, the road between Oslo and Gothenburg (E6) crossing the road between Drøbak and Stockholm (E18). This was where the ancient road (oldtidsveien) went, then the Fredrikhald Kingsroad and Riksvei 1. The house can be dated back to 1725 as an inn and coach house. It has a history of drunken brawls and violence. In 1825 the inn keeper Niels Mortensen Korsegaarden killed his wife Anne Maria in a brutal way, chasing her around the house til she ended up dead in the upstairs "blue room". Niels was sentenced to death and to have his head cut off and places on a pole, but was later pardoned to slave labour and eventually released.