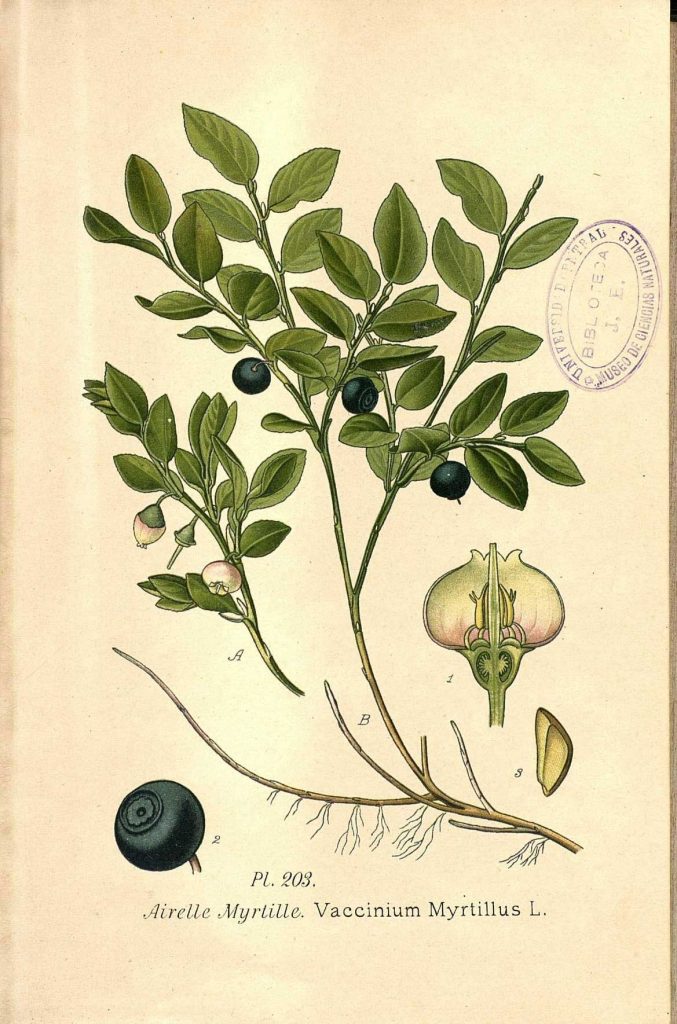 Vaccinium myrtillus is a species of shrub with edible fruit of blue color, commonly called "bilberry", "wimberry", "whortleberry", or European blueberry. It has much in common with the American blueberry (Vaccinium cyanococcus). It is more precisely called common bilberry or blue whortleberry, to distinguish it from other Vaccinium relatives. Regional names include blaeberry, blåbær (Norway), urts or hurts (Cornwall & Devon ), hurtleberry, huckleberry, wimberry, whinberry, winberry, blueberry, and fraughan.
The flowers are borne singly in leaf axils on 2–3 mm long pedicels. The corolla is pink and shaped like an urn. The leaves are finely toothed and prominently veined on the lower surface.
Vaccinium myrtillus is found natively in Continental Northern Europe, the British Isles and Ireland, Iceland and across the Caucasus into northern Asia. It is a non-native introduced species in Western Canada and the Western United States. It occurs in the wild on heathlands and acidic soils. Its berry has been long consumed in the Old World. It is related to the widely cultivated North American blueberry.
Uses
Vaccinium myrtillus has been used for nearly 1,000 years in traditional European medicine. Vaccinium myrtillus fruits have been used in traditional Austrian medicine internally (directly or as tea or liqueur) for treatment of disorders of the gastrointestinal tract and diabetes. Herbal supplements of V. myrtillus (bilberry) on the market are used for cardiovascular conditions, diabetes, as vision aids, and to treat diarrhea and other conditions. Researchers are interested in bilberry because of its high concentrations of anthocyanins, which may have various health benefits.
In cooking, the bilberry fruit is commonly used for sweet foods such as pies, cakes, jams, muffins, cookies, sauces, syrups, juices, and candies. In Norway it is popular in jams, cordial and eaten in a bowl with milk and a bit of sugar for dessert.
In traditional medicine, bilberry leaf is used for different conditions, including diarrhea, scurvy, infections, burns, and diabetes.