The Glomma, is Norway's longest and most voluminous river. With a total length of 621 kilometres (386 miles), it has a drainage basin that covers fully 13% of Norway's surface area, all in the southern part of the country.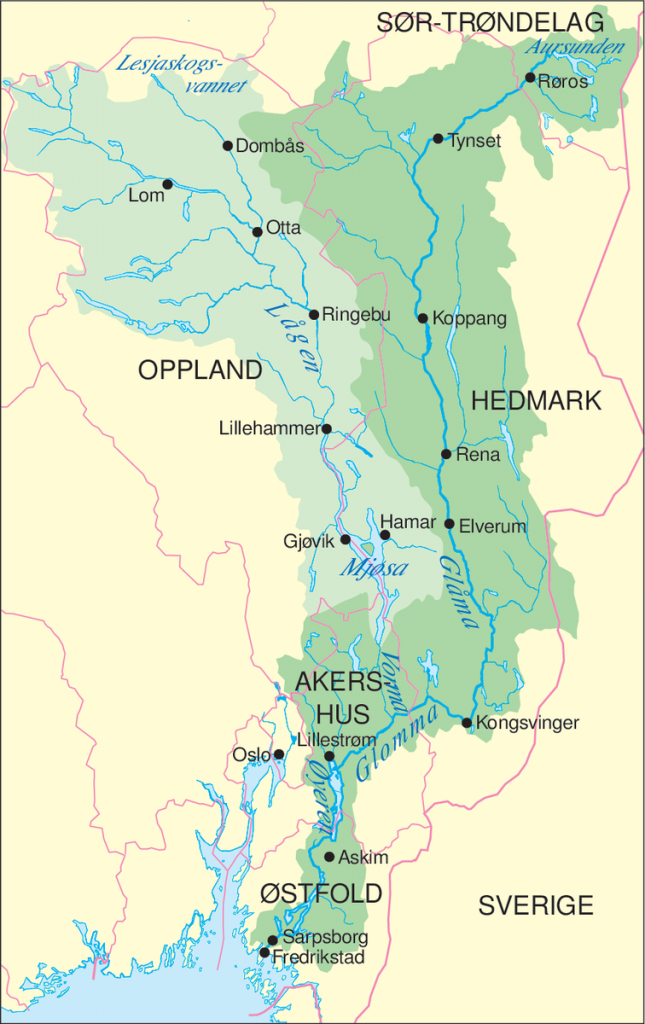 Glomma, also spelled Glåma, runs through the eastern Norway. Rising in a series of small lakes and streams that drain into Aursunden (lake) about 80 miles (130 km) southeast of Trondheim, near the Swedish-Norwegian border, the Glomma flows out of the lake southward through Østerdalen (Eastern Valley) to Kongsvinger, then westward and southwestward into Øyeren (lake). From there it continues southward to Sarpsborg and enters Oslo Fjord at Fredrikstad after a course of 372 miles. The longest river in Scandinavia, it drains an area of 16,236 square miles (42,051 square km). Its chief tributaries are the Atna, Rena, and Vorma.
The Glomma flows through Norway's richest timber forests to Sarpsborg, which has extensive sawmills and paper mills to handle the logs that are floated downstream. The river is a major source of hydroelectric power. Flumes (artificial channels) bypass the falls and power plants, and the Glomma is navigable from its mouth up to the Sarpsfoss (Sarps Falls) at Sarpsborg.

(-Encyclopaedia Britannica)