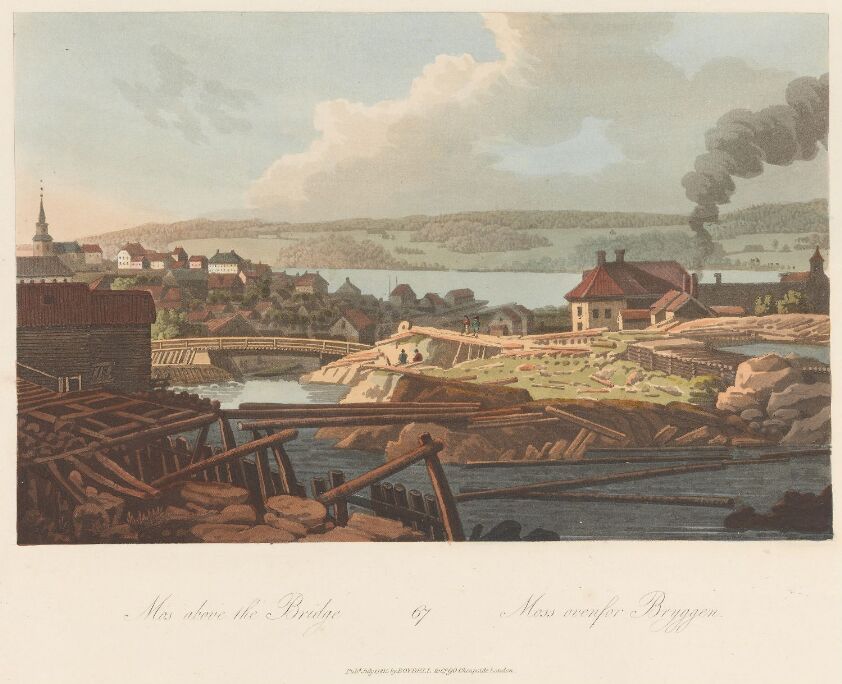 Moss is a coastal town and a municipality in Viken county, Norway. The administrative centre of the municipality is the town of Moss. The city of Moss was established as a municipality on 1 January 1838 (see formannskapsdistrikt). The Old Norse form of the name was Mors. It may be derived from an old root mer- which means to "divide" or "split".
Archeological finds suggest that there were settlements in the area more than 7,000 years ago and continuously through the Iron Age, Viking Age, through to modern times. During the Viking era, the place was known as Varna (forne, vorne, front-protection?) and was the site of a cooperative for battleships held by local warlords on behalf of the king. Moss Ironworks, the signingplace of Convention of Moss
Moss in 1885
The first literary reference to the name Mors is from Bishop Eystein Aslaksson's Red book (NRA AM fol. 328) from 1396, and by then the town had become a commercial center with craftsmen and mills. By the 16th century, the town's port was significant enough to warrant its own customs official. Liquor distilleries became one of the dominant industries, and it was not until 1607, after the Reformation, that the town got its own church.
By 1700, Moss had become a hub for both ship and land traffic between Copenhagen and Christiania, and in 1704 Moss Jernverk (Moss Ironworks) was established just north of the city center. By 1720 it received its charter as a merchant town, with its own official. This may have had background in an important battle in 1716 that was fought in the town square in Moss in which Norwegian troops commanded by Vincent Budde prevailed over invading Swedish forces, sent by Charles XII to capture Akershus Fortress. In 1767 a local resident built a "pleasure pavilion" near the town, which survives as the Hotel Refsnes Gods.
In 1814, Moss became the site for the signing of the Convention of Moss, which effectively put an end to the Dano-Norwegian kingdom. This set the stage for economic development that has persisted to this day.

– Wikipedia