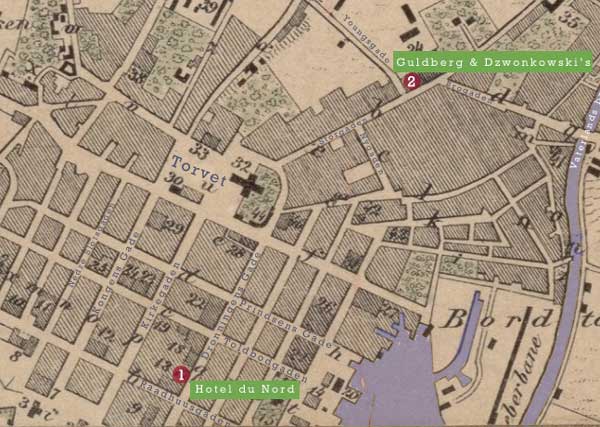 Guldberg and Dzwonkowski's was a bookshop and musical scores publishing agency, who at some point even sold instruments. They ran the weekly illustrated (xylographed) magasine Skillings-Magazin, Billedmagazin for Børn and other publications, prints and musical scores. At one point they also sold musical instruments at Guldberg & Dzwonkowski's.
Carl August Guldberg (1812 in Strömstad, Sweden – 1892 in Christiania, Norway) A norwegian publicist and later priest. His daugter Cathinka Augusta Guldberg (1840 – 1919) became a Norwegian nurse, educator and deaconess. She was associated with the development of nursing education in Norway and his son Cato Maximilian Guldberg (11 August 1836 – 14 January 1902) was a Norwegian mathematician and chemist. Guldberg is best known as a pioneer in physical chemistry
In 1834 Guldberg tok over as editor of Norways first illustrated (xylographed) magasine, "Skilling Magazinet" and established (together with Adam Dzwonkowski) a book- and musicshop and a printer/publishing business. In 1847 he entered priesthood beginning as a chaplain in Nannestad and Ullensaker and in 1869-80 as Vicar in Onsøy.
Adam Stephan Alexander Dzwonkowski, (1815 Masovia, Poland – 1885 i Warszaw, Poland) son of Polish nobleman Stanislav Dzwonkowski was educated in Moscow, then entered the cavalry, participated in several rebellious battles, and was left with a permanently bent neck for the rest of his life (from a sword wound). Fleeing the failed rebellions he arrived in secrecy by ship to Copenhagen, where he met Carl August Guldberg who convinced him to visit Norway. He Arrived in Christiania in 1834, married Marie Therese de Serre and partnered with Guldberg in running the weekly Skilling-Magazin. And together they developed a book and printing business.
I 1842 Dzwonkowski playd an important part in asking the king to permit a catholic congregation with catholic priests, a year later Saint Olav's congregation was established by royal decree.
The first catholic masses were celabrated in Dzwonkowski's building on the corner of Storgaten and Youngsgate, where they had set up a Saint Olav's chappel on the second floor. Dzwonkowski was publisher for "Juletræet" 1850, 1851 og 1852 (in collaboration with autor and colleater of old myths and stories, Peter Christen Asbjørnsen), established, together with printer A.W. Brøgger og xylograph Haakon Adelsten Lunde the magasine Illustreret Nyhedsblad. After the death of his wife in 1852 Dzwonkowski apparently lost a bit of his 'spark', and after a failed humor magasine in 1859, he sold the business, moved to France, then worked for some time as a cicerone in Switserland before he could finally return to Warsaw, Poland where ran a small bookshop untill his death in 1876.
Georg Henrich Jæger (or Henrik George Jæger) born 1817 in Arendal, was an assosiate at Guldberg & Dzwonkowskis. In 1842 he apparently left Christiania for Copenhagen where he established the bookstore/puplisher Skandinavisk Boghandler.