On 1. August 1839, Anne takes out (at Grünings & Co) 248 Speciedaler and 40 Skilling at an exchange rate of 4 Species and 116 Skilling to the Pound [or rather 4 Spd. 4 Mrk. 20 Skill.] which would equal 4.97 Species to the Pound, this means she got what looks to be a decent rate from Grünings bank; The exchange rate set by London in 1839 moved from 4.99 at late July to 4.93 by late August.
248 Sp. and 40 Sk. in mid 1839 would be the equivalent of £5,254.21 in today's money or 63,303.69 in today's Norwegian kroners (NOK).
In the account book she elaborates:
Received chez Messers Gruning & Company Christiania Exchange 4 species 116 skilling per £1 2 circulars notes 8584.8585 £50 = 248 species 40 skilling

Anne Lister account book 1. August 1839

Circular notes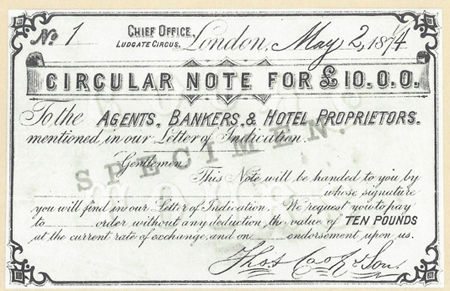 According to the book British Banking: A Guide to Historical Records, by John Orbel, the circular note was introduced as the exchange note by Robert Herries, a London banker in the 1770s. These notes were the first form of credit provided specifically for travellers and were bought by customers from their banker before their journey and cashed at the places of business of the bank's correspondents without charge or deduction. The profit lay in the bank's use of the money from the time of purchase of the notes until they came back for payment.
A lot more detail regarding Anne's spending in Norway is underway, …
Many thanks to Kerry Hudson who is helping out with getting a grip on Anne's spending and accounts!