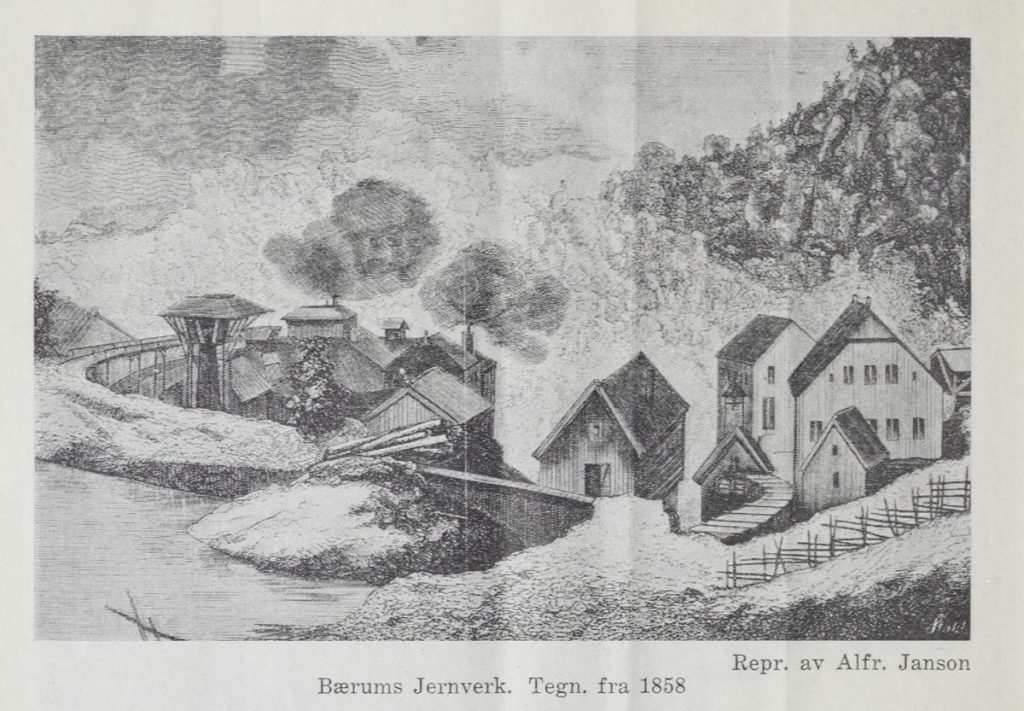 Bærums verk – the largest iron works of its time (built to greatness by Anna Krefting)
Iron ore was found in the areas now known as Kirkerud and Eineåsen in Bærum in 1603 and 1604, and in 1610 Christian IV granted Paul Smelter the right to build, at his own expense, a foundry in the area. The first foundry was built near the farm of Wøyen, further downriver from today's Bærums Verk, and then another one at Gommerud, closer. In 1615 Smelter bought several farms at the present site and consolidated the foundry in one center. This was unusual practice at the time, but turned out to be successful. All other foundries in Oslo, Aker, and Bærum were shut down as a consequence, and Smelter achieved a virtual monopoly in the Oslo area.[1]
The crown ran the works until 1624 when Det Norske Jernkompani took over and mismanaged to the point that the foundry was shut down in 1641, after a flood had damaged much of the plant in 1638. Gabriel Marcelis (the elder), a Dutch merchant with close ties to the Danish crown, took over operations in 1641 and invested in a double blast furnace that produced nails, iron parts, bullets, and cannonballs.
Not sure if Anne Lister knew the detailed history of the works but she would hav appreciated to know that it was a woman (named Anna!) who most successfully got the iron works expanded and managed to become the largest of its kind in Norway:

The Krefting family took over the works in 1664 and built on Marcelis's investments to expand the capacity at Bærums Verk. Especially under the administration of Anna Krefting (née Vogt) from 1712 to 1766 (more on Anna Krefting below) , the works grew to become the largest of its kind in Norway. Even after a devastating fire in 1762, Anna rebuilt the entire plant in two years. After Anna Krefting's death in 1766, her family sold the works to an investment company.
In 1773, Conrad Clausen, then only 18, took over the works and continued Krefting's efforts to expand its activities. He rebuilt the blast furnace so it could run also when there was low water flow in Lomma, built a school on the site, and included also the works at Fossum at Lysakerelven in the operations. Clausen died in 1785, only 31 years old. His widow ran the works for a few years but sold it to Peder Anker, the owner of Bogstad.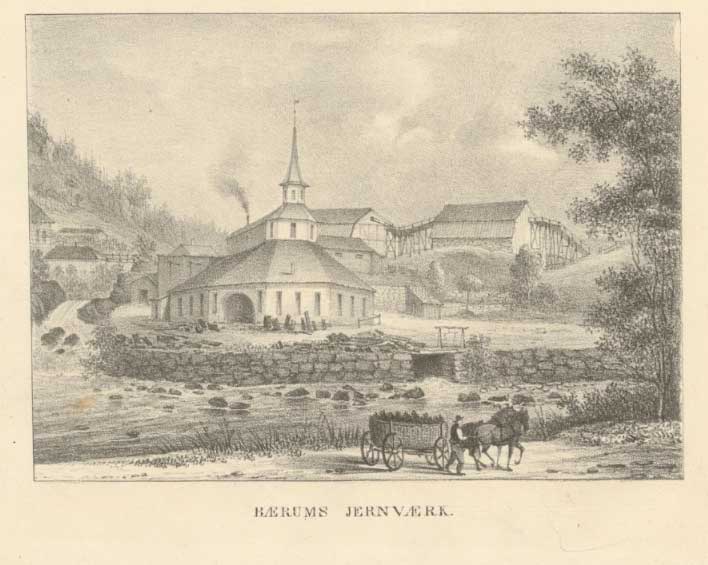 Peder Anker connected Bærums Verk to his growing commercial network, among other things by building Ankerveien, connecting Bærums Verk with Fossum (and thereby Bogstad), Sognsvann, Maridalen and ultimately Hakadalen via Greveveien.
After Peder Anker died in 1824, Herman Wedel Jarlsberg took over the works, passing it on to his son Harald Wedel Jarlsberg in 1840. The works had originally been based on local ore, but now they got the ore from mines near Kragerø and Arendal, transported by sea to Sandvika and transported by horse and wagond up to the iron works
The Wedel Jarlsberg family were among the last nobility in Norway and were active both in national and local politics. On May 22, 1874, the blast furnace was shut down and replaced by a regular cast iron works and workshop.
In 1889, the works went into the Løvenskiold family through inheritance, where it remains to this day. Production was diversified to include a large variety of cast iron products. The works were closed down in 1964, and in the 1980s large surrounding tracts were developed for residential purposes. In 1997, the old factory site was redeveloped as a retail commercial center. Several of the buildings are protected, including Norway's oldest tavern.
Anna Krefting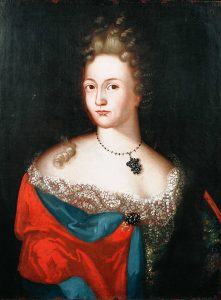 Anna Paulsdatter Krefting née Vogt (1683-1766), was a Norwegian businesswoman who ran and expanded her family's business enterprises in and around Christiania for over 50 years. Among these enterprises were mines and ironworks, forestry, and trade.
Anna Paulsdatter Vogt was born into an affluent family in Christiania with ties to the government in Denmark. Her father, Paul Pedersen Vogt, was originally from Denmark and was responsible for the stores at Akershus Fortress but also a merchant, mill owner, and shipowner in Christiania. Anna's mother, Catarina née Bauman, was the daughter of Dominicus Brau(n)man, war commissary and also in charge of the stores at Akershus.

Anna married Herman Krefting on 26 October 1699, when she was only 16 years old. The couple had at least seven children together. Anna was widowed while she was pregnant with the last child. She never remarried but took over the business and real estate interests of her husband and managed them for 54 years. In particular, the ironworks at Bærums Verk grew to be the largest of its kind in Norway during her time. But she was also responsible for purchase and sale of land, other ironworks, and mines.

She also established a school for the children of her employees and contributed heavily to Tanum Church. She was in continuous litigation with count Ferdinand Anton Danneskiold-Laurvig over rights to mine iron ore on her property on the island of Langøy outside of Kragerø. In 1719 she and her son-in-law Andreas Walleur were granted exclusive rights by the crown to run the iron works at Dikemark. When Walleur died, Krefting let her widowed daughter Anna Katarina run the works. In 1762, the main building burned down at Bærums Verk, but Krefting managed its reconstruction.

Since none of Krefting's descendants were interested in taking over her work, the property and holdings were sold on auction upon her death in 1766. Krefting's holdings were visited by two kings, Frederik IV in 1704, and Christian IV in 1733.

Krefting also resisted the invasion by Charles XII of Sweden during the Great Northern War in 1716 by notifying Norwegian forces of the Swedish troops' dispositions.